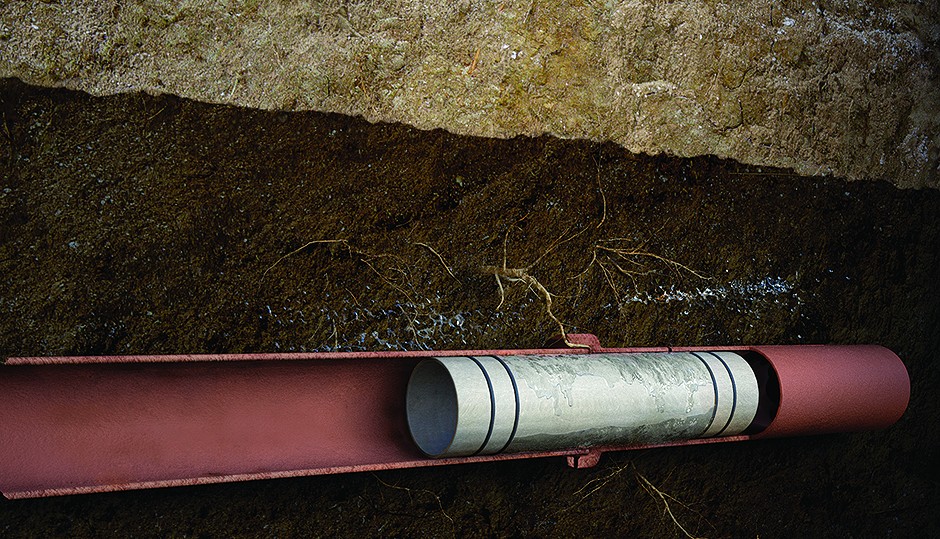 LMK's Performance Liner® Sectional process renews pipes from 6 to 42 inches in diameter and in continuous lengths up to 50 feet. The liner can be inverted anywhere in the pipe with no trimming or cutting. The result is a structural, root proof, water-tight seal. Performance Liner® Sectional conforms 100% to ASTM F2599-11. Gasket sealing technology is used at the terminating points of the liner by embedding LMK patented Insignia™ Hydrophilic O-Rings between the liner and host pipe to ensure a water-tight seal. Compressible material is incorporated at the upstream and downstream ends of the liner for a smooth tapered transition to the old host pipe. During the positioning process there is no resin loss, because the liner is fully contained in the launch hose. Resin comes in contact with the pipe only at the point of repair and migrates into fractures and open joints creating a mechanical lock. Unlike other less precise systems, air pressure is never dropped, which would allow jarred sections of pipe to collapse onto the liner causing further damage and a potential dig. Other 2-step inversion systems also have an uneven resin distribution from the crown to the invert of the pipe. Performance Liner® Sectional Repairs are a one-step, long-term, CIPP solution.
Features & Benefits
Hydrophilic O-Rings on Sectional Tube
The O-Ring is incorporated at the upstream and downstream ends of the sectional liner tube. This swelling gasket is embedded between the liner and the host pipe. The hydrophilic O-ring expands 3 to 5 times its original size in the presence of water.
Continuous Sectional Tube
The Performanceliner® cured in-place sectional lining consists of a one piece continuous lining. The liner is resin saturated and cured all at the same time, producing a one-piece homogenous cured-in-place pipe.
Full Circle Design
CIPP linings are designed from calculations based on physical properties of the CIPP, the depth of pipe being renewed, pipe diameter and soil/hydrostatic loading. The key element in the design calculation is the CIPP being formed as a "tube or cylinder.
Compressible Material on Sectional Tubes
The liner material compresses to a standard specified thickness and is used to form an engineered taper which provides a smooth transition for maximum flow rate.