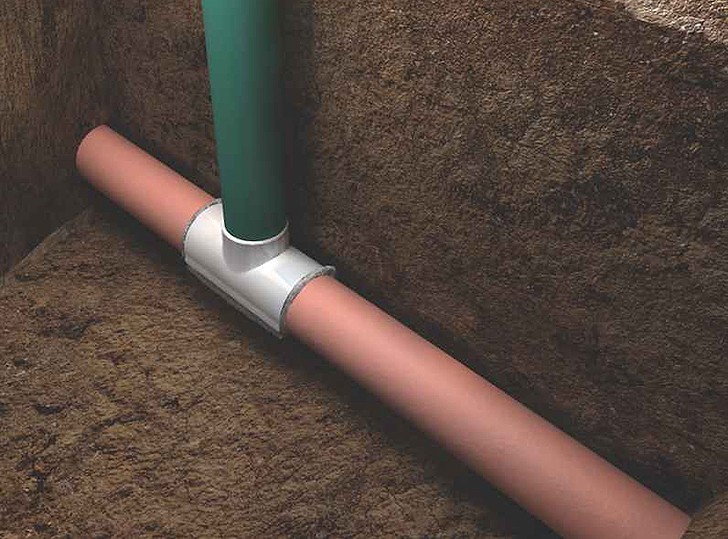 VAC-A-TEE® is a trenchless cleanout system. The patented PVC VAC-A-TEE® saddle is prepared and attached to an appropriate length riser pipe which is equal to the depth of the lateral pipe. The installer applies a proprietary hybrid adhesive/sealant to the underside of the saddle. The saddle with a riser pipe is then introduced into the vacuum excavated hole and the saddle is snapped onto the lateral pipe by pressing downward on the riser pipe. The epoxy cures and forms a new watertight cleanout. A diamond core saw is then used to cut open the crown of the pipe. The VAC-A-TEE® system works with VCP, Orangeburg, Concrete, PVC, and Cast Iron pipes. Restoration to the small vacuum excavation site completes the VAC-A-TEE® installation.
Features & Benefits
Environmentally Friendly
The VAC-A-TEE is installed with minimal disruption and restoration through hydro-excavation while saving trees and expensive landscaping from being disturbed.
Installer Friendly
The VAC-A-TEE system is installed in a few easy steps using minimal equipment. No large trench boxes, no shoring, and no man-entry mean a safe work environment.
Utility Friendly
Vacuum or hydro-excavation not only eliminates the potential hazards of digging up buried utility lines such as water and gas, but also costs associated with locating utilities, excavation, and restoration.
Structural, Sealed Connection
The patented snapping design creates a downward pull onto the lateral pipe. LMK's VAC-A-TEE saddle covers more than 50% of the lateral pipe creating a structural cleanout installation; concerns of shifting or deterioration are eliminated.
Proprietary Adhesive Provides a Flexible, Water-Tight Seal
Our hybrid adhesive is designed for use in subterranean environments and cures underwater in 24 hours, providing a flexible water-tight seal to lateral pipe.