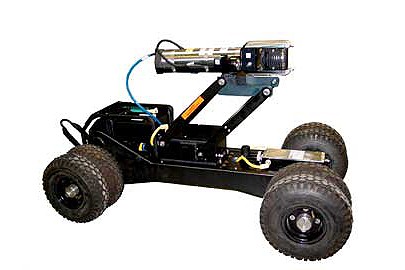 The Mudmaster is a camera transporter that's specifically designed with the necessary weight, power, speed, high clearance, and all wheel drive for pipelines ranging from 24" to 200".
The Mudmaster combines high ground clearance with pneumatic tires to provide the traction and camera stability that's required for operation under the most adverse pipeline conditions including high flow, deep mud, sand and large amounts of debris. Optional tandem wheels are available.
The Steerable Mudmaster offers all the same features of the Mudmaster but can turn 360 degrees within its own radius and traverse pipelines with multiple 45 and 90-degree bends. The waterproof remote operated camera lift can be inserted through a 19" diameter manhole with the camera in the lowest position to preclude the operator from confined space entry. This rugged all wheel drive robot can traverse up to 2500 ft. depending on pipe conditions and can operate all CUES cameras, including OZ (Optical Zoom Pan and Tilt), and Night Lite pan and tilt. Its unique portable joystick stick controller enables the operator to control all transporter, camera, and camera lift functions with one hand. Non steerable units with remote or manual camera lifts are also available.
Specs
Key Specifications

| | |
| --- | --- |
| Inspection Range | 24" through 200" lines |
| Pull distance | up to 2500 ft. runs |
| Tires | Eight (8) 10.5" diameter semi-pneumatic tires |