Scar-Guard, protects field joint coatings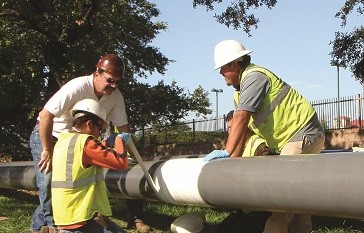 NRI manufactures various composite systems that are designed to strengthen the world's infrastructure. At the NASTT No- Dig Conference NRI will be featuring their patented Scar-Guard line of products.
The Scar-Guard is designed to protect field joint coatings from the abrasion stresses and scarring of directional drilling, HDD and boring. Scar-Guard creates an abrasion resistant, sacrificial outer laminate which protects pre-approved field joint coatings such as epoxies, shrink sleeves, and cold or hot applied tapes. Controlled set times, packaging and extreme conformability provide for fast installations in any project environment. The Scar-Guard line of products minimize the need for costly spot repairs after a pull back and provide long-term protection of underlying field joint coatings.