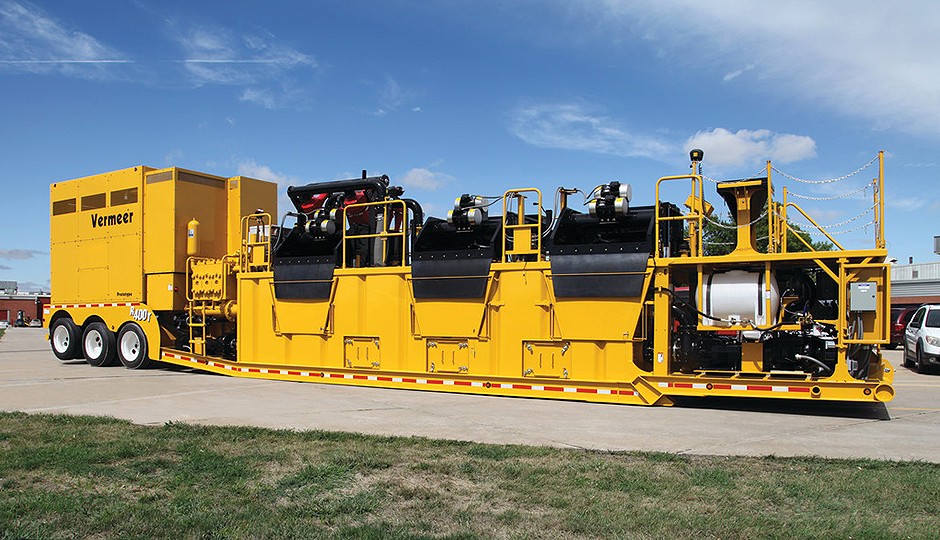 Complete your pipeline package. The self-contained R400T is the perfect partner to Vermeer maxi rigs, helping contractors reduce both transport costs – as both pump and cleaner are contained in the trailer – and drilling fluid disposal. The R400T helps maximize the crew's jobsite efficiency as both pump and cleaner components have been designed to the same capacity.
Features & Benefits
Onboard pump
A 400 gpm (1514.1 L/min) at 1100 psi (75.8 bar) onboard pump built into the unit delivers the same power and performance as a standalone high pressure mud pump.
Design
The self-contained design (pump and cleaner in one package) makes it easier to work in tight right-of-ways.
Precision
A hydraulically driven pump allows for infinitely variable amounts of mud flow [70 gpm (265 L/min) to 464 gpm (1756.4 L/min)], enabling contractors to operate with precision no matter the ground conditions.
ECO mode
With the EcoMode function, operators are able to regulate mud flow while optimizing fuel efficiency for jobsite cost savings.
Pressure monitoring
A wireless remote mud pump control allows drill operators to monitor pressure and mud flow from within the driller's cabin.