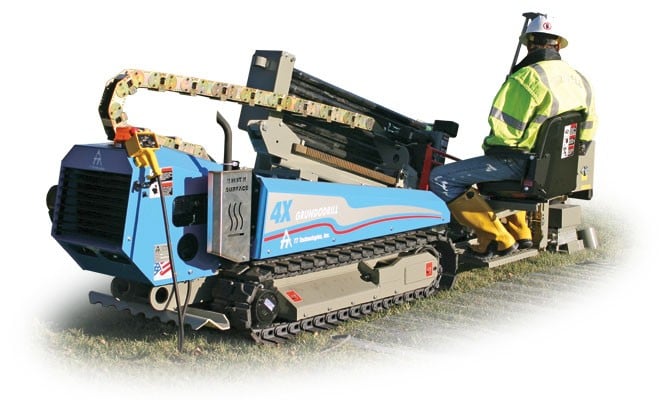 The Grundodrill 4X from TT Technologies provides the power needed to complete tough bores and the maneuverability necessary for tight working conditions. Plus, the Grundodrill 4X comes with the exclusive Smart Vice system that makes directional drilling easier than ever before.
Features & Benefits
Cushion Cylinder
The cushion cylinder helps protect the drill head from abrupt stops during the rod reloading process. It also positions the drill head properly during rod disjoining.
Size
The 4X, at a width of 35.5 inches, travels easily through gates and backyard easements.
Stakedown
The unique stake down system provides greater stability, helping maximize thrust and pullback power.
Motors
The 4X incorporates individual hydraulic pumps for rotation/thrust, increasing downhole power.
Weight
At a weight of only 4,829 lbs fully loaded, the GRUNDODRILL 4X can be towed with a pick-up or work truck.
Track Frame
The 4X track frame serves as the reservoir for diesel and hydraulic fluids. This helps give the 4X an extremely compact profile as well as a low center of gravity, increasing stability.
Smart Vice
The computerized Smart Vice system simplifies the drilling process by performing vice cycling operations automatically. It provides the operator with single push button control, improving efficiency and speeding up drill times.
Specs
Key Specifications

| | |
| --- | --- |
| Weight (including 30 drill stems) | 4,829 lbs. |
| Pullback/Thrust | 9,800 lbs. |
| Pilot bore diameter | 2.5 in. |
| Diameter drill rod | 1.50 in. |
| Engine | 37.5 hp |