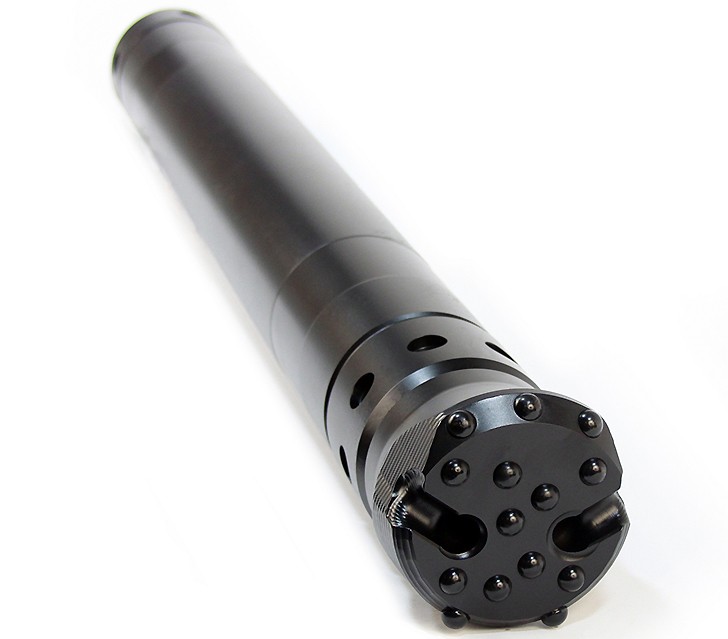 Whether you're drilling in soft rock, solid rock or intermittent conditions like boulders separated by soil, the R400 rock hammer will hit your target. The patented offset steering rock bit design provides precise steering. Patented check valves in R400 bits eliminate ingestion of debris and face cleaning exhaust ports prevent plugging of the hammer maximizing tool performance.
Features & Benefits
SYSTEM COMPONENTS
R400 Air Hammer, 5.25 straight and offset bits, patent pending pullback kit, control station/oiler, drill conversion kit including hoses and fittings, sub-connection, hydraulic breakout tooling, universal HD high flow rock drill housing.
EXTREME AIR FLOW FOR UNMATCHED PRODUCTION
The high flow design of the HD universal housing complements the R400 by increasing the air flow. This makes the R400 hit harder and faster, supplying your drill with unmatched power to operate successfully in the toughest rock.
ADVANCED, LIGHTWEIGHT CONTROL STATION DESIGN
The Roughneck control station utilizes the drill's existing mud pump to efficiently deliver air, oil and fluids down hole. This innovative design reduces the control station footprint and weight.