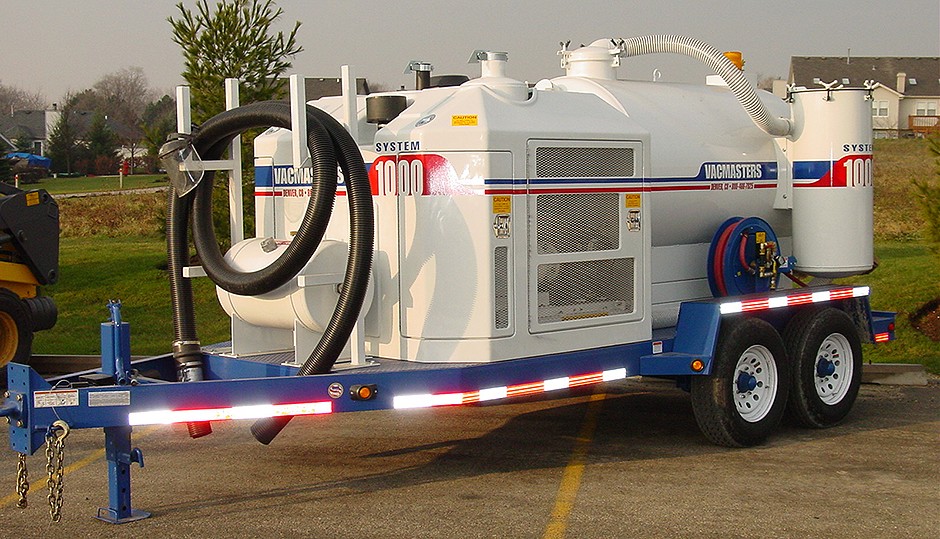 VACMASTERS, offering high quality air-vacuum excavation trucks for sale, has made underground utility locating equipment more affordable than ever. The VACMASTERS SYSTEM 1000 is a trailer or truck-mounted system that also has water on board. With the SYSTEM 1000, you can dig effectively in any kind of soil, using air 95% of the time.
Features & Benefits
Selectable Air or Water Digging
Allows crews to use air 95% of the time, with water available when needed. Effective digging in all soil conditions.
Skid Mount Design
Allows installation on a trailer or truck.
Remote Operation
Operate up to 200 feet away for areas difficult to access. Our optional Barrel-Top Interceptor keeps the spoils at the digging site.
Quiet Operation
High efficiency absorption chamber silencer and enclosed power head minimize noise levels enabling you to be a good neighbour.
Low-Maintenance Design
Monitor and maintain oil levels, follow recommended checks and adjustments, and occasionally clean the polyester filter -- that's it!
Single-Engine Design
Powerful John Deere diesel engine drives all systems: vacuum, air and water. One engine to operate and maintain. Quality components mean readily available service.
Additional Benefits of Potholing with Air
Digs faster than water in most soils. Collected spoils remain dry for fast, efficient backfilling. Eliminates mud disposal problems. Safer for utilities and operator. Air won't damage roadbase.
ACRYLIC URETHANE PAINT
High-quality paint combined with bead blasted metal surfaces means fast, easy clean-up and a machine that will look good for years.
Supervisory Control Panel
Automatic monitoring of all systems with auto-shut-down allows a 2-man crew to operate the system.
Specs
Key Specifications

| | |
| --- | --- |
| Water Tank | 85-Gallon Water Tank |
| Air Tools | 100 cfm @ 100 psi |
| Vacuum | 780 cfm, 15" Hg, 4" hose |